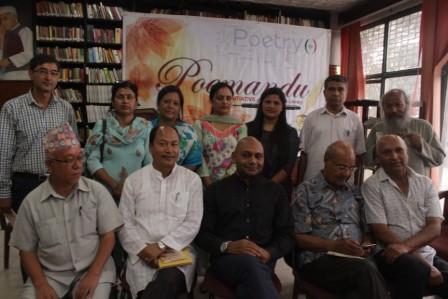 Embassy of India and B.P. Koirala India-Nepal Foundation organized 27th edition of Poemandu on Thursday, June 18, 2015 at Nepal-Bharat Library in Nepal Airlines Building, New Road.
Abhay Kumar, Secretary of B.P. Koirala India-Nepal Foundation welcomed the guests and shared, "After almost one and half month, we are resuming our monthly events back at Nepal Bharat Library. The loss in Nepal due to the recent April 25 and May 12 earthquakes are irreparable. Now that we are moving on, and are more focusing on reconstruction and rehabilitation, we will continue organizing our cultural exchange programmes. In this edition of Poemandu, we will remember all those who lost their lives in the tragedy and for us we will try to heal each other through poetry."
Before the recitations, the event observed a minute's silence to pray for the lives lost in the earthquake.
Eleven eminent Nepalese poets namely – Prakash Sayami, Dr. Taranidhi Bhattaray, Dr. Sunil Babu Shrestha, Jagadieshwor Pokharel, Geeta Khanal, Jayanta Pokharel, Brahm Priya Prem Swarup, Janati Thapa Silwal, Sanat Kumar Wasti, Krishna Jung Rana, Mithila Pyakul recited in this edition of Poemandu. Almost all the poems were about the recent earthquake, the aftermath and about the need of reconstruction and rehabilitation.
Abhay Kumar presented the token of appreciation to all eleven poets.