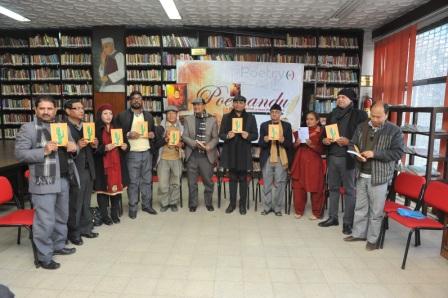 Embassy of India and B.P. Koirala India-Nepal organized 29th edition of Poemandu to mark the 218th Birth anniversary of Mirza Ghalib on Friday, Sunday 27 December, 2015 at the Nepal Bharat Library in Nepal Airlines Building, New Road, Kathmandu.
The programme started with paying rich tribute to Ghalib for his contributions in the field of Urdu poetry. Prof. (Dr.) Sanath Kumar Basti briefed on Ghalib's works and contributions. He stated that Ghalib started composing poetry at the age of 11. Before Ghalib, the ghazal was primarily an expression of anguished love; but Ghalib expressed philosophy, the travails and mysteries of life and wrote ghazals on many other subjects, vastly expanding the scope of the ghazal.
This edition of Poemandu had eminent poets reciting their poems/ghazals in Nepali and in Hindi, namely –Manoj Neupane, Tripura Poudel, Abdul Momin, Momila Joshi, Gopal Ask, Imtiaz Wafa, Gyanuwakar Poudel, Krishna Jung Rana, Shekhar Giri. The powerful recitations by these poets were well received by the audience.
On this occasion, Abhay Kumar, Secretary of B.P. Koirala India-Nepal Foundation shared his experience about organizing and participating in literary events in Kathmandu. In his remarks he mentioned that Ghalib was not considered the best poet of his time, in fact poet Zauq was the poet laureate of the last Mughal Emperor Bahadur Shah Zafar, but time has judged Ghalib to be the best. He also recited his own poem on poet Ghalib and Laxmi Prasad Devkota. He extended his gratitude to all the participating poets and the audience for their encouragement and participation ever since Poemandu started 34 months ago. He also shared that he will soon be leaving Kathmandu for Brasilia where he has been posted as India's Deputy Chief of Mission. He said that Poemandu has brought the literary community of Nepal on a single platform and hoped that it will continue in coming months.
On the occasion of Ghalib's Jayanti, the book named "Dhupchaya" written by Dr. Krishna Jung Ran was also released. Melodious rendition of the Ghazals of Mirza Ghalib by different poets created a special evening welcomed by the audience with thunderous claps.