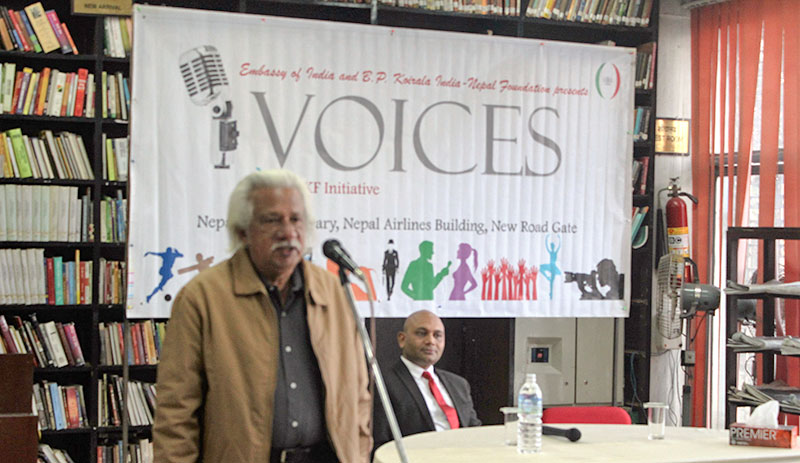 Eminent Indian Film Director, Script Writer, Producer Adoor Gopalakrishnan delivered a talk on "Cinema" under the VOICES programme organized by B. P. Koirala India-Nepal Foundation in association with Embassy of India, Kathmandu on Friday, 20th November 2015 at Nepal Bharat Library.
Moutatthu Gopalakrishnan Unnithan, commonly known as Adoor Gopalakrishnan played a major role in revolutionizing Malayalam cinema and is regarded as one of the finest filmmakers of India. His first film Swayamvaram (1972) pioneered the new wave cinema movement in Kerala. All the eleven films he directed, from Swayamvaram to Oru Pennum Randaanum (2008), were screened at several international film festivals and won him several national and international awards. He won the National Film Awards sixteen times, Kerala State Film Awards seventeen times and several international film awards. He won the prestigious British Film Institute award for Elippathayam (1981). Adoor received the Padma Shri in 1984 and the Padma Vibhushan in 2006. The Nation honoured Adoor for his valuable contributions to Indian cinema by awarding him the highest cinema award of India, the Dadasaheb Phalke Award for the year 2004.
During In his one hour talk, he shared his experiences in making cinema. He also mentioned that Indian cinema has played an important role in societal changes. The talk was followed by Q & A session. The programme was attended by film makers, critics, students and media.
Prior to his talk, Mr. Abhay Kumar, Secretary of B. P. Koirala india-Nepal Foundation shared that several Indian and Nepalese eminent personalities including Padma Bhushan and Dada Sahab Phalke awardee Shri Shyam Benegal and Padma Shri awardee Raghu Rai had delivered their talks under this series.