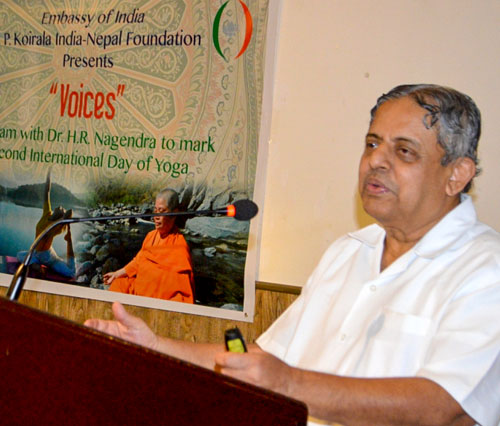 As part of celebrations of the 2nd International Day of Yoga, B. P. Koirala India-Nepal Foundation, Embassy of India organized a Talk Programme today under its 'Voices' series. The Key Note Speaker at the programme was reputed Yoga expert Dr. H. R. Nagendra from India, known more particularly as the Yoga Consultant of Indian Prime Minister Shri Narendra Modi. The Chief Guest at the programme was Hon'ble Minister of Culture, Tourism & civil Aviation, Shri Anand Prasad Pokharel who also shared his views on the benefits of yoga at the programme and announced that the Government of Nepal would organize an event to celebrate the 2nd International Day of Yoga at Darbar Marg on 21st June at 7AM.
2. The programme was attended by members of yoga associations and meditation institutes in Nepal. Dr. Nagendra presented an enthralling talk, co-relating yoga with physics, mythology, religion and history. Also speaking at the programme was Swami Anand Arun of Osho Tapoban, who highlighted the need for meditation as part of yoga practices.
3. Speaking at the function, H.E. Mr. Ranjit Rae, Ambassador of India, stated that Yoga was the common heritage of our two countries and its regular practice would improve not only physical health but also mental & spiritual well-being.